Jodi is Amazing!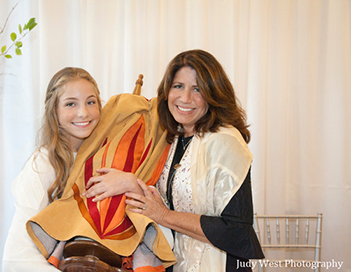 "Right from the start Jodi made a lasting connection with our daughter and our family. She has been a wonderful role model and teacher, creating a nurturing environment in which Olivia could study and learn what it means to become a Bat-Mitzvah. It was this connection to our daughter and our family that made Olivia's Bat Mitzvah so special. Moreover, the connection and spirit of inclusiveness that Jodi made with our guests during the service added to the beauty of the moment with many of our guests telling us that Olivia's Bat Mitzvah was one of the most beautiful services that they had ever been to. Combine all of that love and joy with Jodi's GORGEOUS, melodic voice and Olivia's Bat-Mitzvah was truly a special moment for not only Olivia- but for our entire family and all who were there to witness her accomplishment.
Thank you Jodi, from the bottom of our hearts! We love you!"
- Andrea Segal, parent of Bat Mitzvah
Jodi Created a Meaningful, Traditional Jewish Wedding Service
Jodi Blankstein officiated at our daughter's wedding and did a beautiful job. The ceremony was lovely. Jodi was able to incorporate everyone's desires and created a meaningful, traditional Jewish wedding service that satisfied all. That was quite a feat. The beauty of the ceremony was enhanced by Jodi's beautiful singing and her choice of music. Her personal comments were both meaningful and humorous. Following the ceremony, our friends and family, who come from many different Jewish and non-Jewish traditions, universally praised the ceremony as "one of the most beautiful" they have attended.
- Andrea & Mark, 2 Happy Parents
Personalized Content, Deep Judaic Knowledge, Loving, Thoughtful Presence
Jodi connected with my daughter instantly and built an incredible relationship with her: at once productive, enriching, and SO much fun! Without exception, Julia truly looked forward to her weekly tutoring sessions! Jodi tailored the Bat Mitzvah preparation to Julia's particular interests, strengths, and personality, consistently engaging her at both a sophisticated intellectual level and an adolescent one.
Jodi's service -- personalized content, deep Judaic knowledge, loving, thoughtful presence -- and totally amazing voice -- really made the day for all of us. Several of our guests clamored to hire her for their own children's Bat Mitzvah preparation after seeing what Jodi did for Julia. I cannot recommend her highly enough as a cantor, tutor, and teen mentor.
- Deb Offner
A Spiritual Touchstone for Our Whole Family
odi worked with us and our sons to prepare a beautiful, meaningful Havdalah service to commemorate our boys' B'Nai Mitzvah in Israel. Her warmth and her beautiful voice made both the process and the event itself a spiritual touchstone for our whole family. We recommend her highly to anyone looking for a creative, lyrical service.
- Marla Wolk
Her Soothing Melodies Tenderly Guide our Congregation in Prayer
"It's as if G-d is singing to us through Jodi Blankstein's voice. Her soothing, embracing, emotive melodies tenderly guide our congregation in prayer as we welcome Shabbat. Either with responsive voices or closed eyes, all are engaged. In the last two years or so that Jodi Blankstein has led our services attendance has markedly increased. We need more prayer books and chairs....what a wonderful problem to have. Temple Habonim is experiencing spiritual growth. The love of G-d and the need to be together as a Jewish community is palpable. You can see it in the faces of the children as well as the elders. Jodi Blankstein brings warmth, hope, peace, and G-d to all of us. So many prayers are wonderful but for me the R'Tzei is nectar for the soul. Come to our services and close your eyes....your heart will open."
- Dr. Jay Schachne, congregant of Temple Habonim
Jodi Blankstein is a wonderful singer of Israel!
"She truly understands the role of Cantorial Soloist and the art of chazzanut and makes meaningful and authentic contributions to worship services and life-cycle events. Jodi has a wonderful repertoire of Jewish music, has a keen awareness of how to select and choose music to fit the occasion, has excellent command of Hebrew, and, most importantly, takes her role as a leader of song and prayer seriously. In whatever she does, Jodi fosters an atmosphere of inclusiveness, emanates warmth, and uses her beautiful voice and her heart to bring just the right sound and quality to her work. Jodi creates a sense of community that lasts long beyond the last note she sings at any event, occasion or service."
- Rabbi Lisa Eiduson
Her Beautiful Voice Adds Depth and Richness to our Services
"Jodi Blankstein has served Temple Habonim as our part time cantorial soloist since January 2009. In the time that she has been with us, Jodi has chanted and sung her way into the heart of our congregation. Jodi feels a deep spiritual connection to Jewish music and liturgy, which is evident in the way she leads us in worship. Jodi plays an integral part in creating a deeply prayerful environment for our community. Her beautiful voice adds depth and richness to our services. Jodi is extremely professional and responsible; her presence and her music are a gift to any service in which she participates."
- Rabbi Andrew Klein, Temple Habonim
It was such a pleasure to be interviewed recently by Hal Slifer on Chagigah Radio WERS 88.9. Please click the link below to hear this brief dialogue as well as one of our recordings that aired on 12/31.
"Jodi interviewed on Chagigah Radio"
Click to listen