From Within, Spring 2014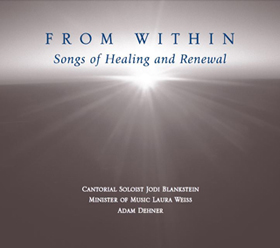 1. Mourning into Dancing
2. B'Yado
3. With Me
4. Sim Shalom
5. Piano Interlude #1
6. Mi Shebeirach
7. RíTzei
8. Stay With Me
9. Piano Interlude #2
10. Al Tasteir
11. Mi Shebeirach
12. Yívarechícha
All transactions are processed by PayPal, although you may choose to pay by credit card or through your PayPal account.
Listen to these tracks
LEAD VOCALS:
Cantorial Soloist Jodi Blankstein

BACK UP VOCALS AND PIANO:
Minister of Music Laura Weiss

GUITAR:
Adam Dehner
Beyond the Santuary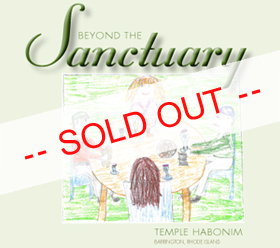 1. Introduction
2. Ki Eemcha Mikor chayim
3. Candle Blessing
4. Hinei Ma Tov
5. Ma Yafeh Hayom
6. Yedid Nefesh
7. Od Yavo Shalom Aleinu*
8. Dodi Li
9. Shir Chadash
10. Circle Chant
11. Or Zarua*
12. Lícha Dodi
13. Shalom Aleichem

It was such a pleasure to be interviewed recently by Hal Slifer on Chagigah Radio WERS 88.9. Please click the link below to hear this brief dialogue as well as one of our recordings that aired on 12/31.
"Jodi interviewed on Chagigah Radio"
Click to listen